| | | | |
| --- | --- | --- | --- |
| S5 Menu With Multiple Effects | | | |
Written by Administrator
Wednesday, 05 December 2007 11:32

The S5 Menu system gives you the option to choose between the jQuery or the S5 Effects scripts to power your site menus. The demo here is all running the jQuery menu system. You can easily switch to the S5 Effects library via your template parameters area in Joomla (extensions > template manager > select the template and click edit)

The S5 jQuery menu functions just like the S5 No-MooMenu except it is powered by jQuery. To demo the menu just mouse over the top menu and you will notice the menu smoothly expand and fade in.

Don't want this fancy menu? Not a problem, it can easily be turned off in the template configuration screen.


Menu screenshot: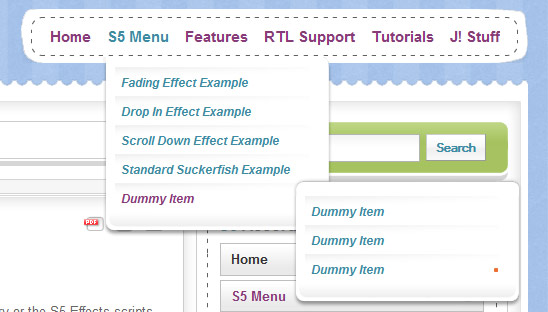 4 Options:
Last Updated on Tuesday, 13 April 2010 17:49