Through the Have It Your Way features it is now possible to have an unlimited number of color combos! That's right, unlimited!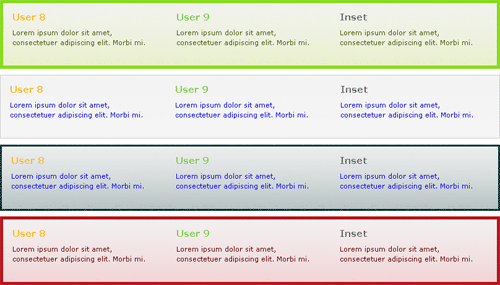 Bliss has three horizontal module rows built into it.
Row 1 contains:
Row 2 contains:
Row 3 contains:
You can apply whatever color and styles you want to these rows! Along with the color settings you can also change the border size, default body font color (module titles are controlled through the modules styles) and there is an option to have a gradient on the rows. All three rows are controlled indepentantly.
This feature is awesome for displaying advertisements, announcements or whatever you wish to show off.
If you have trouble finding good color combos Adobe has made it very easy for you. Visit this site if you need inspiration on color themes: http://kuler.adobe.com/
The Have It Your Way template configurations will guide you through exactly how to set these rows up. Click here to see how.