Shape 5 Bliss - June 2007
Now Supporting Native Joomla 1.5!
This month we decided to put in as many options as possible. 21 color styles, 66 module styles, 68 typography options, brand new Have It Your Way options and so much more really puts Bliss in a category by itself!

Maybe you're new to Joomla or maybe you don't have too much experience programming, or perhaps you are a programmer and you wish that template configuration could be easier. Well look no further, this month we are introducing the Have It Your Way options. These features allow you to customize your template exactly how you want it without touching a line of code. All you have to do is answer a series of questions through the configuration and that's it. We've spent hours fine tuning the questions to make them as user friendly as possible to make template customization as easy as possible!
Note - New updated version powered by S5 Effects, no Mootools!
With Bliss you have the option of using 2 different styles of the suckerfish drop-down menu. You can either choose from a glossy style (default) or you can set it to a more flat looking style. It's all possible thanks to the many Have It Your Way features.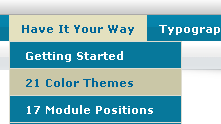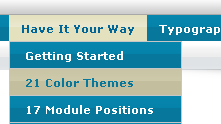 Through the Have It Your Way features it is now possible to have an unlimited number of color combos! That's right, unlimited!