Written by Administrator
Thursday, 07 February 2008

The S5 Frontpage Display comes packed with configurations to easily adapt this module to any website! A screenshot of the first box's configuration can be found at the bottom of this page.

Note - This module will not work with templates using tables. Please check this before purchasing.

Features at a glance:


Includes PSDs and sample top background
Height of top area
Height of boxes
Width of boxes
Margins of module
Border around top area
Show between 2 and 7 boxes
Choose to cycle the boxes automatically or manually
Choose the display time
Each box can be 1 of 7 colors
Create hyperlinks for the boxes or top area
Open hyperlinks in a new window or same window
Create pre-text or leave blank
Insert your own HTML code for the main content of the boxes.

Note - this module is for paid club members only.

This demo uses HTML for the main content area of each box, but you may simply type text into the content area of the module without having to insert any code. Below is an example of the content on box 1.

<div style="font-size:8pt; background:url(http://www.shape5.com/demo/forever_ace/images/applications.png) no-repeat top left; margin-top:5px">Create your own background to give your site a unique look like no other website.

<strong>Making a background takes just minutes.</strong></div>


The parameters for the module and first box: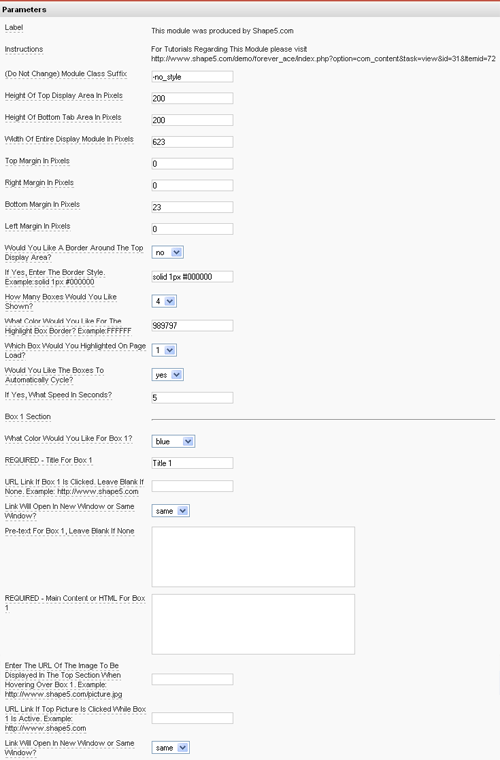 Last Updated ( Monday, 09 February 2009 )