| | | |
| --- | --- | --- |
| How To Setup the Search Box and Menus | | |
Written by Administrator
1. Search Setup



Publish the default Joomla search module to the 'top' position.
Do not show the search button.
2. Column Menu Setup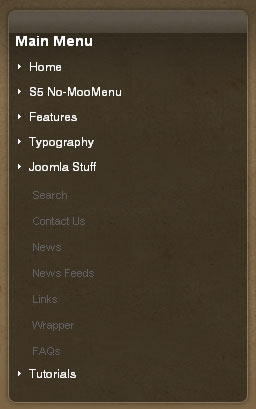 No special settings are required for this menu in Joomla 1.0 but in Joomla 1.5 make sure to remove the menu class suffix (Found under advanced parameters) and set the menu style to Legacy Vertical.
3. Sub Menu Setup



Publish any menu to the 'cpanel' position.
Set the menu class suffix to -top (Found under advanced parameters in Joomla 1.5)
Make sure there are no module styles applied.
Set the menu style to flat list (Legacy Flat List in Joomla 1.5)
4. Bottom Menu Setup

Publish any menu to the 'bottom' position.
Set the menu class suffix to -bottom (Found under advanced parameters in Joomla 1.5)
Make sure there are no module styles applied.
Set the menu style to flat list (Legacy Flat List in Joomla 1.5)