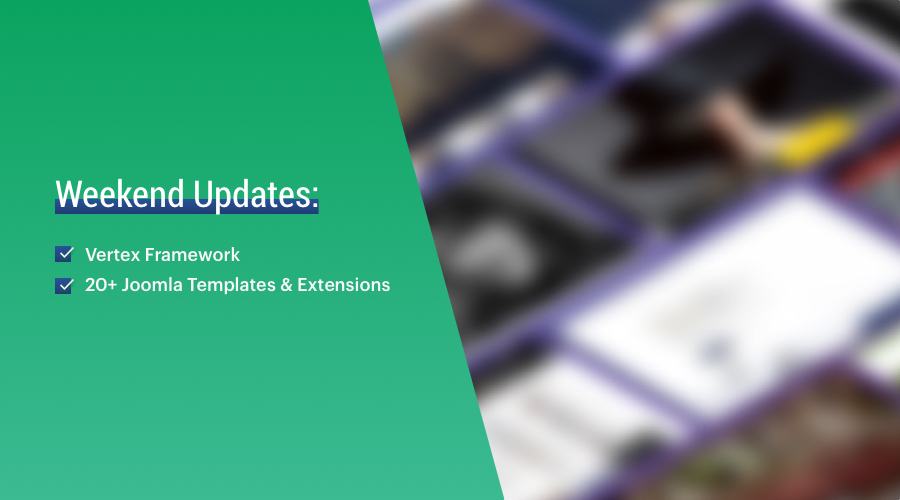 This weekend, we have released updates for vertex Joomla framework, 20 Joomla templates and 3 extensions for Joomla 3.8.11 compatibility and bug fixes
Please check the changelog below:
Vertex Joomla framework 4.2.2 Changelog - Update Steps
Turn off template options on frontend.
Can't show full option on the dropdown.
Fixed edit module on homepage.
Text and button are overlapping when view slideshow on iphone/ipad.
Got some error when edit an article on the frontend.
CSS error on Login Part.
Add font-awesome for component.
Reduce the space on Home Menu.
Page navigation displays error on search result page.
Fix form login doens't show on mobile dropdown.
JS error on Intro Pag.
Got css error on Search page.
Get code error on topbar when view on iphone.
Missing style on contact page.
Fix warning menu on mobile.
Fixed icon on Front-end Editor.
Show active on parent menu.
Fix vertex compression doens't work on old template.
Joomla Templates Changelog
S5 Newsplace Template - Version 1.0.1
Remove weblinks
Slideshow: Missing mask on the thumbnails
Got 404 error page when clicking on the home icon
Navigation need more styled
Missing language on edit module page
iPhone_portrait: Button displays error on slideshow
Tabs need more style
Login and register form are missing style
Missing separate icon on breadcrumb module
S5 Traction - Version 1.0.1
Missing title of S5 Image and Content Farder module on Homepage
Got some error when edit module on the frontend
Remove weblinks
S5 Blogazine - Version 1.0.1
Get code error on Pagination
Contact form style not like demo
No active style for submenu
Restyle for Popover
Link Menu lead to 404 page
Some CSS errors on Edit Article page
iphone: CSS error on Login Part
iPhone Landscape: CSS error on Search Part
Iphone: content overlap on breadcrumbs
iphone landscape: need more space for category blog
iPhone portrait: CSS error on Homepage
S5 Cleanout - Version 1.0.1
Can't edit any module on Homepage
CSS error on Contact page
Iphone: Realign Remember Me checkbox on Login page
Iphone: Restyle font of Grab a free copy and test drive today module
Restyle search text box at position sidebar on all page
Submenu should be highlighted when it's activating
Can't see text of navigation button on most pages
Missing position when enabled tp=1
S5 Ameritage Medical Template - Version 3.0.1
Homepage: Tab Title too blur
Wrong icon in Breadcrumbs
Restyle for checkbox of Login
Button too blur when hover on email article
No active state for Submenu
Font size on menu is too small
Missing icon on Menu
CSS error on Search field
CSS error on Contact page
Get code error on Pagination
Duplicate Menu on Accordion Menu
Missing Language on Module Edit page
Wrong icon on Edit Module & Edit Article
Restyle for Popover
S5 Modern Flavor - Version 1.0.1
Remove incorrect icon on homepage
Need highlight button when hover on most pages
Can't edit any module on Homepage
Got some error when edit an article on the frontend
Submenu should be highlighted when it's activating
Remove weblinks
Iphone: Change color of Log out button
Iphone: Got css error on result search page
S5 Metro Shows - Version 1.0.1
Got error on result search page
Submenu should be highlighted when it's activating
Missing most fields of s5 quick contact module compare demo
Problem with article detail page
Need restyle email form part
Got some error when edit an article on the frontend
Got some error when edit an module on the frontend
Got css error on News Feeds page
Restyle Contact us page compare demo
Missing style Setting up module styles page
Iphone: The article is overfull
Salon and Spa Template - Version 1.0.1
Seem missing background on about us page
Need restyle search page
Missing style on article page
Login and Register displays ugly on iphone
S5 Sports Nation - Version 1.0.1
Homepage: CSS error on Search field
Reaglin for Search input field with button
Breadcrumbs path is missing on Homepage
Link Menu lead to 404 page
Wrong icon on Edit Module & Edit Article
Restyle for Contact form
Iphone: get error on Homepage
No active state for Submenu
Menu: font-szie too small
iPhone: CSS error on contact form
Iphone: minor bug on Checkbox of Login page
S5 Cyan - Version 1.0.1
Missing icon menu
Realign Remember Me checkbox on Login page
Missing module compare demo
Submenu should be highlighted when it's activation
Realign Search button on Search page
Got some error when edit module on the frontend
Some CSS errors on Edit Article page
Missing image on Contact page
Missing content on Wrapper page
S5 Construction - Version 1.0.1
Realign Remember Me checkbox on Login page
Missing some fields of S5 quick contact module on homepage
Got some error when edit module on the frontend
Submenu should be highlighted when it's activating
Got some error when edit article on the frontend
Can't see icon of S5 map it with google module
Missing content on Wrapper page
Title menu is cut on most pages
Remove weblinks
S5 Sienna Template - Version 1.0.1
Breadcrumbs path is missing on Homepage
Set header and Logo to equal height
Remove the border on Register Page
Restyle for Search form on Homepage as demo
Restyle for Footer menu
Wrong icon on Edit Module & Edit Article
Remove icon for Edit Article
iphone: CSS error on Login Part
No active state for Submenu
Link Menu lead to 404 page
Missing Search Criteria
S5 Compassion - Version 1.0.1
Realign Remember Me checkbox on Login page
Navigate icon does not highlight when hover
Got Category not found error when click Read more button of Latest news module
Got some error when edit module, article on the frontend
Restyle Email/Print popup
Got most errors on result search page
Submenu should be highlighted when it's activating
Got 404 error when open News/Links menu
Missing image on Contact page
Missing content on Wrapper page
Got error on S5 image slide v2, S5 accordion menu page
S5 Hexicon Gamer Template - Version 1.0.1
Should restyle email form
Need restyle button and icon
Restyle page navigation
S5 Maxed Mag Template - Version 1.0.1
Need restyle login form
Restyle page navigation on search result page
Realign icons on S5 Accordion menu
Realign icons on tabs show page
S5 Callie Rush - Version 1.0.1
Got error in Search Page
Minor CSS error on Contact page
Minor CSS error on Login part
Breadcrumbs path is missing on Homepage
K2L Restyle for K2 Pagination
Iphone: K2: Restyle for Comment in Item Detail
K2: CSS error on User page
Some CSS error on Menu
No active state for Submenu
Wrong icon on Edit Module & Edit Articl
Restyle for Virtue Mart product layout
S5 Design Control - Version 1.0.1
Missing icon of most menus
Submenu should be highlighted when it's activating
Got notice error when choose Error Reporting = Development
S5 Vertex Template - Version 3.0.1
Submenu is not highlighted when it's activating
Missing image on contact us page
Got 404 error page when clicking to login or register
Problem with print page
S5 Photofolio Template - Version 1.0.1
Get code error on Homepage
Missing submenu for J!stuff
CSS error on News module on Homepage
Need relign for Breadcrumbs
No active state for Submenu
Restyle for Blog page
Mobile view show code error
iPhone portrait: restyle for check box of Login part

S5 Appwonder Template - Version 1.1.1

Restyle for Contact us on Homepage
Get code error on Accordion Menu
Restyle for Search Result page
No active state for Submenu
CSS error on Contact page
Link Menu lead to 404 page
Login Page too blur
iphone: Get error 404 when click to Register/Login
iPhone: Get code error on Homepage
iphone: hard to see content on Homepage

Joomla Extensions Changelog

S5 Spotlight News Module - Version 1.1.1

Doesn't show Image

S5 Reservation Module - Version 4.0.1

Fix error PHP7
S5 Reservations module doesnt work

S5 Image Scroller Module - Version 3.0.1

Support php7
Some JS bugs