Introducing a brand new idea to Joomla, an entire template where you pick the color theme! This amazing ability gives you the ability to choose any color style you want, making your site a truly unique template from all others. You pick just two colors to change the entire appearance of the site, including typography, backgrounds, module styles, read more buttons, back buttons, everything is effected by just two colors! User Choice is powered by many S5 Effects elements. This script was written from scratch by us and because of this you will not experience script conflictions with modules used with this template.
Features:
Check Compatible Joomla Versions
100% tableless CSS
New S5 Ultimate Drop Down
New S5 Slider
New S5 Content Accordion
Validates with XHTML & CSS standards
24 module positions
23 module styles
Font adjusters
PSD included
Many typography options available, see template demo for more info
Supports fluid, fixed and slider widths
Custom column widths
Many hiding elements
UNLIMITED color schemes
Dual suckerfish menus
Easy to follow configuration
Compatible with the following browsers:



IE6
IE7
Firefox 1.5+
Opera 9+
Safari
Netscape
Advant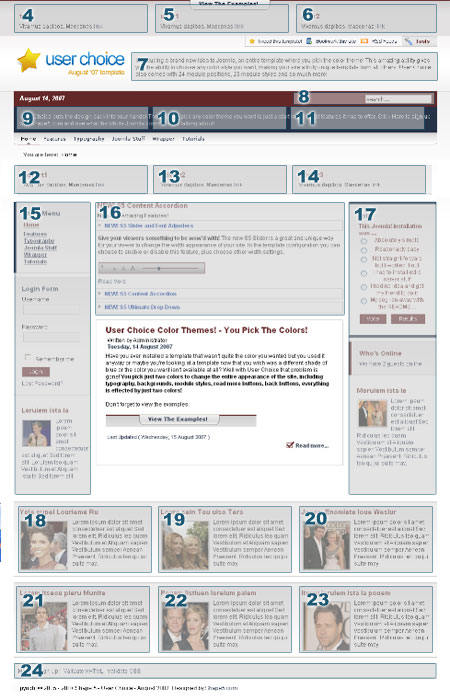 1. cpanel (in drop down)
2. header (in drop down)
3. toolbar (in drop down)
4. top
5. user1
6. user2
7. banner
8. icon
9. user3
10. user4
11. user5
12. advert1
13. advert2
14. advert3
15. left
16. newsflash
17. right
18. user6
19. user7
20. user8
21. user9
22. legals
23. inset
24. bottom


Template Configurations:
You can easily configure this template with the below options. Once you have installed this template login to the administration of your Joomla site. In the admin navigate to your Joomla templates from the top menu: Site > Template Manager > Site Templates. Select "yourstore" and then click "Edit HTML". You will then see something similar to the following:

// Template Configuration

Once there is a series of very easy to follow questions.

From the configuration you can configure:
Light or dark style
Colors of the template
Enable/disable slider and font buttons
Set page and column widths
Setup the toolbar buttons
Enable/disable middle menu
Drop down configurations
And much more!

If you still aren't sure or have any more questions don't hesitate to ask on the forum.