Details

Written by

Super User

Category: Frontpage
Hits: 2106
The S5 Weather Module pulls XML data from Yahoo.com and displays the weather for the current day and the upcoming 2 days along with images depicting the type weather. You can enter a zip code in the administration side and also switch between Celsius and Fahrenheit.
Features:
Enter ZIP code via admin side
Choose celsius or fahrenheit
Pulls weather data from Yahoo weather
For those of you living outside the US, please complete the following steps :
1. Drill down to your location on Yahoo Maps http://weather.yahoo.com/
2. Look at the address bar (If you live in Melbourne, Australia it looks like this: http://ther.yahoo.com/Melbourne-Australia/ASXX0075/forecast.html?unit=c)
3. Copy the region/area code found in the above URL (ASXX0075)
4. Next open up the weather.class.php file (../modules/mod_s5_weather) and search for the the word: 'location' (there are two instances) and replace with the code that you have just copied from Yahoo, save and close.
5. In the Admin area of the weather module simply paste the Yahoo region code into the zip code box (in this scenario: ASXX0075)
Details

Written by

Super User

Category: Frontpage
Hits: 2298
The Masonry module is demo'd on this page, and is a powerful module that pulls your article from a category or categories and can display them in masonry style format. The module automatically changes on screen resize to fit the screen a user is viewing them on. You can choose to output a "load more" button that will load a set number of articles you define via AJAX. The second method to load articles is "scroll to load" which will load articles once you scroll to the bottom of your screen. You simply assign an intro image under your "Image and Links" parameters area of your article and then if you choose to show it in the module it will show up. The intro text will show up if you've added text to your article before your read more button.
Features:
Choose to enable scroll to load or load more or neither

Show or hide category elector

Show or hide read more

Set how many articles are to be shown

Set how many articles are to load via AJAX button or scroll methods

Order articles by publish date, created date, random or ordering

Show or hide hits

Standard layout or hover layout

Responsive ready and more, view the below admin screenshot to see all the features
Admin Area Features: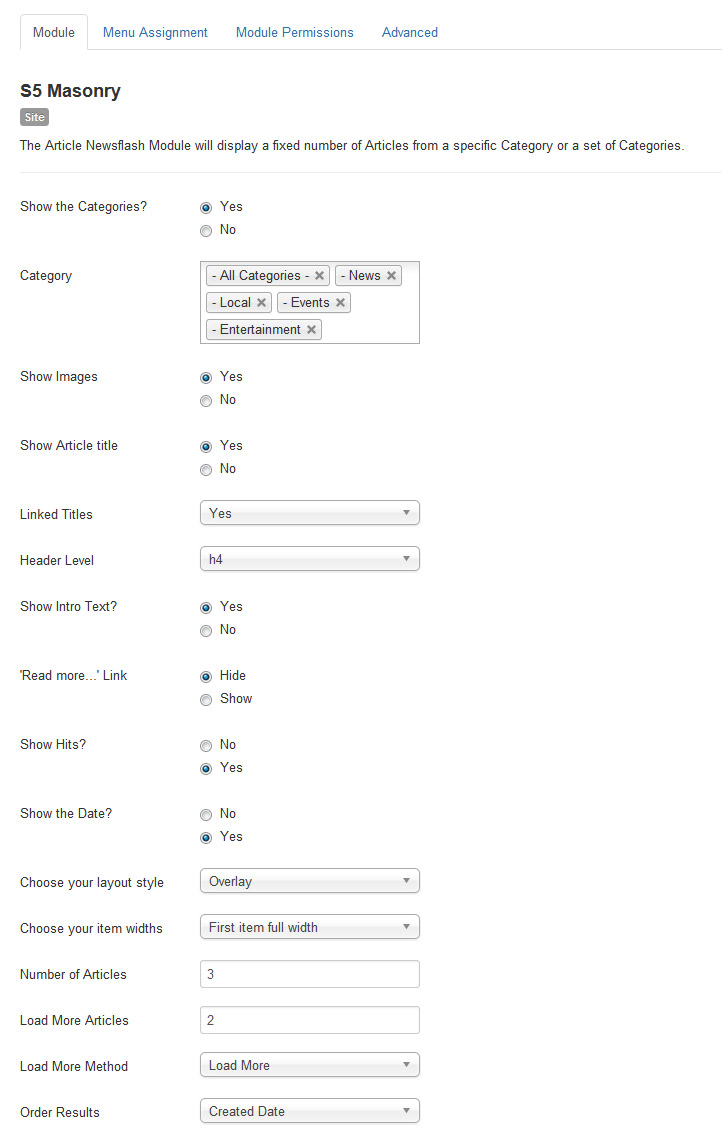 Details

Written by

Super User

Category: Frontpage
Hits: 2150
The full page scroll option takes each row of Vertex and sets it to the height of your screen. With the arrow buttons of your keyboard or the vertical scrolling of your mouse the screen will jump to the next section. Each row that has modules published to it will show as the full height of your screen. To demo this check out the homepage of this demo. You can enable on the homepage only or have it show on all pages. We recommend that it shows only on the homepage.
You can place the below code on any DIV directly as a child to <div id="s5_body_padding"> and it will make it show up full screen.
class="s5_slidesection"
The below screenshot shows the admin area under the "layout" area of Vertex. You simply start adding names for the row names and then it will be enabled. Be sure to separate them by commas. You can enable the full page scroll to just show on the homepage only.

Fullscreen scroll navigation that shows on the right hand side of yoursite: